MARCH 16 St. Patrick's Tea Party - Noon until 2:00 p.m. Come join us as we get a head start for the celebration of St. Patrick's Day. Teas from Ireland, Irish inspired breads, savories, and sweet treats will be served. Information and activities about the Irish and this internationally celebrated holiday will be shared. Cost $25.00 per participant. Reservations required; reservations will be accepted until March 14. Please call or text Clara Fulkerson at 502-276-6731 to make reservations.
MAY 5-8 Studio 2 Art Exhibit Wickland's beautiful historic interiors will be enhanced by the masterpieces of Mary Spalding's Studio 2 Art students. Opening Reception: Sunday May 5, 1-4 p.m.; exhibit hours: Monday May 6, Tuesday May 7, and Wednesday May 8, from 1:00-3:00 p.m.
NOVEMBER 23 Wickland Christmas Bazaar at Civi Center - 10:00 a.m. - 4:00 p.m.
Christmas decorations, gifts and cards will be on sale. Local crafters and artists will offer unique creations for one of a kind purchases. For table rental and more information contact Clara Fulkerson, phone or text, 502-275-6731. Civic Center located at 321 South Third Street.
DECEMBER 14 & 15 Mrs. Julia Beckham's Christmas Teas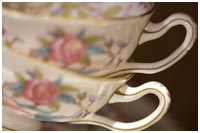 Julia Wickliffe Beckham, the only woman in the world to be the mother, sister, and daughter of a governor, hosts a Victorian Tea, and shares memories of her life at Wickland at the turn of the century. Saturday luncheon at noon; Sunday tea begins at 4:00 p.m. Reservations required and non-refundable pre-payment is expected. For more information, contact Clara Fulkerson, phone or text, at 502-275-6731.