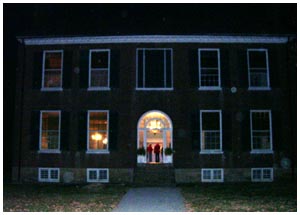 A Visit With The Spirits Of Wickland - Every Friday
Experience the history and mystery of Wickland, Home of Three Governors. Take a 90 minute paranormal family-friendly tour which includes the opportunity to interact through a psychic medium and the friendly spirits who once lived there. Tours start at 7:30 p.m., doors open at 7 p.m. Most Friday evenings during the year, Friday and Saturday evenings during October. Private tour dates and times may be reserved for groups of 15 or more. Reservations are suggested by calling 502-331-5586. Tickets $15. Cash and checks only. Contact our Manager, Lyda Parker for more info.
Check out The Kentucky Standard article on the Spirits of Wickland. >>
Dixie Hibbs explains the Spirits of Wickland (Part 1)
Dixie Hibbs explains the Spirits of Wickland (Part 2)
An Explanation of Spirits of Wickland
Michael and Katie Wilhite, twin sisters, are the two mediums who have helped us to communicate with and investigate the Spirits of Wickland. The spirits dialects and manner of speaking, which isn't always sentences but bits or single words, complicates getting full information. Sometimes we just don't ask the right questions and sometimes we don't understand the answers. Putting what is learned into the history of Wickland and into the time frame of the past is the challenge. But there have been enough historically correct answers and information to impress us.
Some of the handicaps to this search is the number of family members named Margaret, Charles, John, Robert and William. There are 4 Margarets, 4 Charles, 3 Roberts, etc. Listed below is just a sample of the spirits we may visit. We never know who will be here.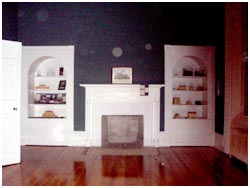 Waleta is the strongest spirit in Wickland. She is the most consistent and is always in the kitchen. She was a large black woman who did most of the cooking. (She doesn't like to be called fat.) She wears her hair pulled back with a bonnet or scarf over it. Her dress is long and grayish brown. A bib apron covers the dress. Her sleeves are pushed up. Her arms are scarred with burns from cooking. When we asked what she wore under her dress, she pulled up her skirt and showed a brownish petticoat. When asked if she made her clothes, she said "the main ladies did it." She answers to Margaret most often (the lady of the house.) She seems to have a sharp tongue replying to most questions with some spirited words. She says she is here now because this was where she was happy, this was her home. Her kitchen looks to her as it did when she lived there. The mediums describe it with a large table in the center, large pot hanging over the fire, potatoes in a basket, shelves built on the window sills, and "dried" meat hanging from a line strung across. During our visits, episodes of catching and killing chickens, making butter, tea, making bread (two loaves a day), and washing with a "rock" which was how the gray and yellow block of lye soap was described by Katie or Michael, relived by the mediums. Other descriptions of washing clothes spoke of using tree bark for scrubbing and for soap. Washing clothes outside with black irons setting on fireplace were described. "Work harder when the master is here" she said. She never knows how many to cook for because of the visitors. Her favorite food is chicken. Master Charles's favorite food is "mashed potatoes and sweet potato pie." When asked about kitchen affairs, she spoke about keeping mice out, by soaking pinecones in vinegar and putting them and cedar around the room.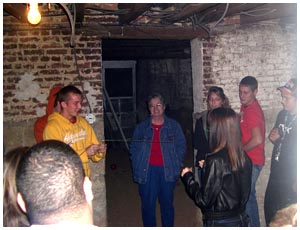 While talking with Waleta, children spirits were running through the kitchen calling "pony man" is coming. The medium saw a man on horseback with a long overcoat with bags on the back of the horse. "Did we have a pony express here - someone with a J, Johnny, Joe?" No, but after investigation, during the Civil War in October of 1862, Charles Wickliffe (former Postmaster General of US) hired Joseph Aud to deliver the mail from Louisville to Bardstown after Morgan burned the railroad trestle. This went on for about 8 months. Stagecoach mostly.
Dorsey is the sister of Waleta, called "Chalk-breed" by her sister indicating that she is of mixed race. She was a nurse for the children, and liked to work outside in the garden. She was the first to make herself known to Michael Wilhite. She is able to answer questions about how the spirits move about from this world to the afterlife. Her accent is also very southern and hard to understand. She is a small dark woman, with a prominent nose. When she was asked if the slaves could attend church services, "...not allowed" was the answer, but immediately she and others started singing "Go tell it on the Mountain" a gospel song.
Will is a 3 year old little boy who appeared with Dorsey. Very shy, he would not speak when questioned. When asked how old he was, he stuck out his hand with three fingers showing. Dorsey answered questions for him. His name, Will... did he have older sisters? Yes, Maggie and Nan-nan. William Thomas Beckham died at three years of age, with two older sisters. Their names were Margaret (or Maggie) and Nanny. His mother was Julia Wickliffe Beckham. Dorsey said she nursed him when he died of pneumonia. He is buried in the family plot at the Bardstown Cemetery.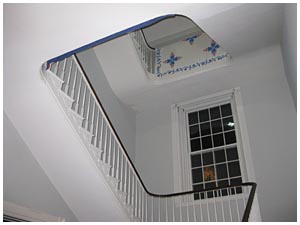 Sam is a little boy about 6, who died from a broken neck after falling from the stair railing. He had been told to stay in the first floor hallway while his father was visiting the office. He followed a white cat upstairs to the 2nd floor. Between the 2nd floor and the landing he climbed on the banister and slipped off. Father may be William? (We can't seem to get a clear last name.) He said that he wasn't allowed to see his mother much, as she was sick. Waleta found him. She said he was a "new face."
Amelia Ann Barberet looks wealthy with a green velvet dress, a belt, a ribbon around her neck with "a round gold circle with a face in the middle" (a cameo) carrying a fan. She has brown leather shoes that slip on, with short heels. They are embroidered with green thread. We think she died when she was 20 years old in Tennessee?..a friend of Margaret. Another medium channeled her and said she had a southern accent and spoke about her grandmother. She said that sparks from the fireplace set the Christmas tree on fire and "everybody thought the house was going up." Other spirits indicated she was here at Christmas. Waleta remembers a Christmas party with Amelia Ann, calling her a "prude."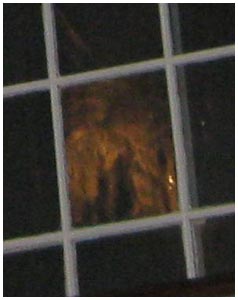 Antoine was a slave, discovered in the basement. A young man, hunched over with broad shoulders, narrow waist and fairly short. He was wearing a shirt with rolled up sleeves, one suspender holding up pants which end above the ankles. No shoes. His feet are very tough and rough looking. He works in the yard with the horses, very strong. Doesn't talk a lot, but wants to move the rods. He likes to interact with the children. At one time another young male slave was with him, but he hasn't been around lately.
Other spirits include Victoria, Elizabeth (not married, about 24), a man in his 30's who is thin, mustache, walks with a cane and is very angry, and Sarah (blonde, plays piano and carries around a book or bible).